"Reggie Has A Way Of Pushing His Clients Beyond Their Goals And 50 Lbs Later I'm Still Setting And Crushing New Goals!"
I have been on some type or form of diet since I was a freshmen in college. My weight just seemed to fluctuate throughout my entire adult life and I was never truly comfortable with my size. I tried quick weight loss programs and they worked, but the results were temporary. I tried the Lemonade cleanse and it worked, but the weight came back and brought more with it. One day I decided that I needed a permanent solution to my weight problem and I had seen a few of the women Reggie helped with body transformations so I reached out via social media and my life has changed for the better! Honestly I wasn't fully committed to the program at first and I must admit that the challenge of the workouts got to me and I quit. Some time passed after I left and I noticed that I was experiencing shortness of breath whenever I did any physical activity (climbing the stairs or running short distances) and once again I had gotten uncomfortable with my own body. It was then that I made up in my mind that I was going to come back and not only train with Reggie but I was going to commit to this healthy lifestyle. One of the best decisions I have ever made was committing to this fitness programs. Reggie has helped me to establish goals and move beyond what I thought I was capable of doing. Everything about his program is specialized and is geared towards the individual. Initially when I came back I was just looking to lose 20 lbs. but Reggie has a way of pushing his clients beyond their goals and 50 lbs. later I'm still setting and crushing new goals!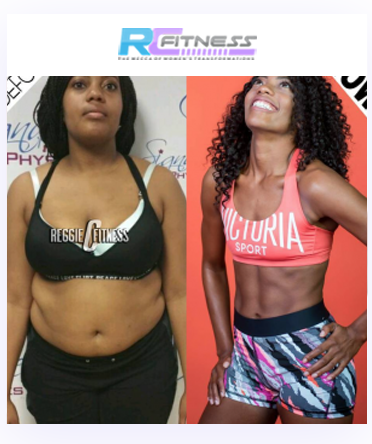 "At 40 Plus, I Am Healthier Than A Teenage Athlete With Bad Knees. LOL!
How I became a "Beauty That Is A Beast". My best friend owned a crossfit gym and I had been doing that for about three years when her job transferred her to Alabama and she had to close down. I had been in a funk for 8 months trying to find a place where I fit in and ran across my cousins transformation pictures. I stalked her page for a while admiring the sisterhood that she and the women had at the gym. I found the courage to come and join. I have to say, this is by far one the best decisions I've made in my life. At 40 plus, I am healthier than a teenage athlete with bad knees. LOL!! This place is a stress reliever for me. I love that it caters to women only and we can be ourselves. Last but certainly not least. I could not ask for a better training family. Reggie is a package deal!! He comes with a loving and understanding Fiancé, beautiful baby girl and over 100 fit sisters!!! His work ethic along with his kind and respectful demeanor put him ahead of his peers. Every time I'm in that gym I can hear him saying "Nikki, they don't work harder than us" that just motivates me to want more. I love my FitFam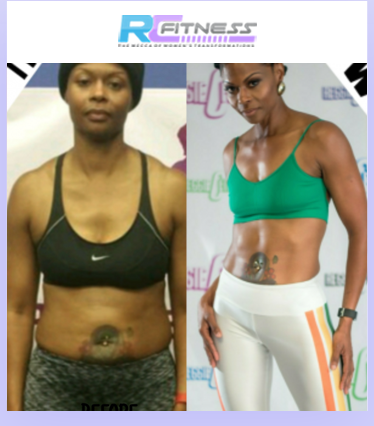 "The Process Works And Is Continuing To Pay Off With Big Results"
Before training with Reggie, I'd tried various forms of exercising, diets and had many personal trainers over the years. I would do okay for a short time, then fall off the wagon over and over again. I would also get discouraged due to various injuries. I was at my heaviest ever in life and just recuperating from my fourth knee surgery when I heard about Reggie C Fitness and the ladies at Signature Physique. I was impressed at how strong yet feminine the women were. I was also intrigued by the different workout programs.
I jumped right into the small group training and bootcamps. From day one, ladies of all races, ages, and fitness levels have encouraged and motivated me on this fitness journey. I used to not understand Reggie's methods of pushing us to be great. I can't count the number of times I asked "You want me to lift all of this weight?" "Trust the process" became my mantra because getting fit is a mental as well as a physical challenge. The process works and is continuing to pay off with big results!
Reggie's confidence in my potential has helped me to have faith in my abilities. He leads by example and his dedication to his clients is amazing. The support from him and the ladies at Signature Physique made me realize that anything worth having is worth working for!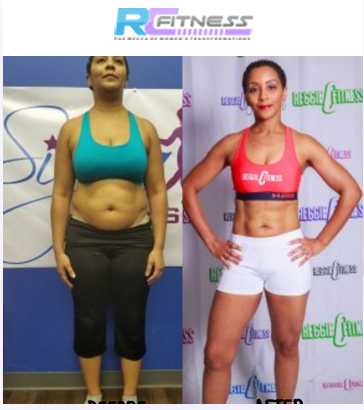 "Crossing Paths With Reggie Collier Has Been A Blessing And Thankful That He Was Faithful Enough To Follow His God Given Dream & Talent."
I'll never forget that moment Reggie had me face every roll I tried to tuck in my tights, every back fat I tried to hide behind my weight lifting brace, and every creves and curve I kept hidden to only highlight the features I wanted shown for my before transition picture. So many people asked why are you even trying to lose you look good. Well it's only because I only showed what I wanted them to see. Been working out for as long as I can remember but this man here brought out an entirely different beast in me. Everything that could have went wrong during this fitness journey in my personal life happened from my career change, ex-spousal issues, and business ventures but he was there as a counselor, mentor, trainer & never let me give up on myself! Truly love him and the supportive fit family for it! Reggie challenged every area of discomfort and pushed me in ways I never thought was possible.
He believed in me and pushed me beyond limits than any other trainer experienced in my past; surpassed my expectations of safe and created workouts that longingly challenged my body to avoid the plateau of adaption. When I first set foot inside Signature Physique Studios I truly didn't know what I signed up for but have heard and seen so many 'Life Transformation' stories through pictures. I'm just grateful to now be a testimony as one. Crossing paths with Reggie Collier has been a blessing and thankful that he was faithful enough to follow his God Given dream & talent. I have never been this fit in my life ever! Now I get stopped practically everywhere I go and asked if I'm a trainer myself, if it's genetics or just a lifetime of playing sports. I come from a family build of thick-proned and big boned so neither of the prior mentioned I fit in. All hard work & dedication.
I have been with Reggie just shy of almost a year now & cant wait to continue this journey of where he will take me next. One of the best there is and I thank him for helping me reach a lifelong dream within a milestone!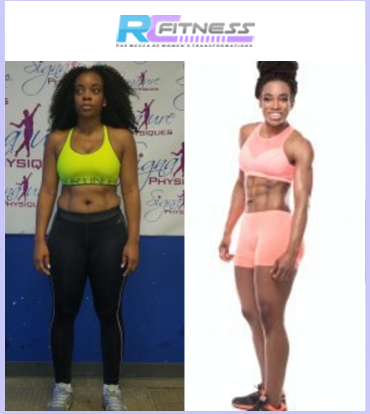 "I am in better shape physically and aesthetically to than I was as a high school cheerleader."
I tried a few times on my own to lose weight, but never really had major success due to a lack of great guidance or the tools needed to actually be successful. Running across Reggie has been one of the greatest things that has happened to me in Houston, and as what I believe to be Houston's best female trainer, he has given me great guidance, accountability, encouragement, and every tool needed to reach my fitness goals. What began as a quest to FINALLY "lose weight" 30lbs to be exact) has turned into something much greater than a desire to decrease a number on a scale. I am in better shape physically and aesthetically than I was as a high school cheerleader, and I now desire to be healthy, fit and implement overall wellness into my lifestyle, while constantly improving my physique along the way. Reggie has also helped me understand the importance of nutrition and eating according to my goals, which has been a major key to my transformation.
The most important transformation that has taken place over the last nine months since training with Reggie has been the transformation of my mind. I no longer believe in limits, and I know that whatever my mind perceives, my body WILL achieve…with discipline and a relentless work ethic. In addition, Reggie has built a safe, exciting, encouraging community of women who motivate and hold each other accountable daily. Fit sisters turn to fit family, and it is impossible not to want to do or be great when surrounded with so much positivity and accountability. Reggie is able to meet you where you are, and has a way of pushing you to exceed well past wherever it is you THOUGHT you wanted to be. His attention to each client's individual fitness and nutrition needs is conducive to our overall growth, success and improvement in strength and aesthetics.
Six months in I was down 30lbs and 10% body fat. Nine months in, I achieved a 50+ lb weight loss, shed a ton of body fat, built muscle, a shape, strength, endurance and confidence AND saw my body fat percentage reach the teens. I can't wait to see what my 12 month transformation will bring, and beyond! I look forward to growing and glowing with Team RCF in the future!