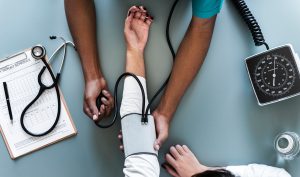 I have a lot of clients in Houston, TX, that tell me they actually are staying healthier, looking great and avoiding illness now that they are working out. One even told me that he was ready for the flu when there was chaos at work, but it didn't happen this year. That's because working out burns off stress hormones. There's a link between stress hormones and illness, so burning them off can keep you healthier.
What are stress hormones?
Your hormones are messengers. You may immediately think of sexual hormones like estrogen or testosterone, but there are so many other types of hormones that don't affect your sexuality and are responsible for keeping you healthy. Hormones are chemical messengers that affect all parts of the body and triggers proper functioning. Stress hormones prepare your body for fighting or running. In early man, that was beneficial. It helped prepare the body to escape a predator or fight when attacked. Today, stress comes from far different types of things. It can occur when your boss yells at you, the baby cries or during a traffic jam. None of those situations would benefit from the fight or flight response. Adrenaline, cortisol, norepinephrine are the three primary stress hormones.
Adrenaline raises your blood pressure, boosts your heart rate and increases your energy supply.
Cortisol, another stress hormone and the primary one, triggers more sugar to be put in your bloodstream, sending more to the brain, while also boosting the amount of the substance that stimulates the repair of tissue. It ensures the essential functions necessary for flight-or-fight receive the majority of energy by curbing nonessential functions or those that would interfere with running or fighting. Norepinephrine causes blood flow to increase to the muscles that help you run or fight or reduces it to the digestive system, while also inhibiting digestive and even voiding.
Stress hormones do more than just that, they affect your metabolism, too.
When stressors are always present and you constantly feel under attack, that fight-or-flight reaction stays in "on" position. It slows the metabolism and affects where the body stores fat. When you have high levels of cortisol, fat is stored around the abdomen. This visceral fat crowds organs and can create even more digestive problems than the original hormones, while also crowding and interfering with vital organs, like the lungs or heart. It causes anxiety, depression, headaches, heart disease, sleep problems, digestive problems, weight gain and affects concentration and memory.
Why do clients find they stay healthier when they exercise. Stress hormones suppress the immune system. When they workout, they mimic fight-or-flight and burn off stress hormones.
When you burn off the hormones of stress, you also improve your sleep. During sleep the body makes repairs, while chemicals boost the immune system.
Stress hormones can lead to craving unhealthy food, such as those high in sugar. Exercise helps burn off stress hormones and makes eating healthier easier.
At Reggie C Fitness, I'll provide help with a program of exercise and healthy eating to help you deal with stress hormones, burning them off and getting back into shape and healthier.
For more information, contact us today at Reggie C Fitness