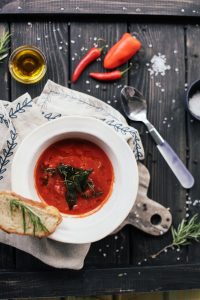 Nobody enjoys cooking during the scorching hot months in Houston, TX. Healthy meals that don't require that much cooking. Living on take-out isn't an option. The food is often bad for your health and is loaded with sugar, potassium, and additives. You can make any meal preparation easier by washing and cutting fresh vegetables ahead and storing them in the refrigerator.
You may have to do a little cooking but make that effort worth it.
Use your air fryer to make rotisserie chicken. Set aside enough for the nightly meal and store the rest in the freezer for other meals. Chop the chicken into bite-size pieces and add your favorite chicken salad ingredients. They can include grapes, apples, pecans, celery, onion, red bell pepper, or other healthy options. Top it with a healthy dressing, such as a combo of mayonnaise and Greek yogurt. Put it atop a bed of lettuce or in your favorite wrap.
Tuna or Salmon add some Omega-3 fatty acids to your meals.
Make tuna or salmon salad and keep the house cool. Just open a can and add the ingredients. One salad uses either fish and adds chopped celery, capers, onions, and pepper. Top it with a mixture of mayonnaise and Greek yogurt and put it on a bed of lettuce surrounded by sliced tomatoes. Grilled salmon is delicious with spinach salad as a side pepper, strawberries, and vinaigrette.
Make a "cheat" Gazpacho with canned tomatoes.
Real Gazpacho requires a little extra effort if you're making it from fresh tomatoes, but you can cut some time by using canned or a combination of the two. It takes a pound and a half of fresh peeled and deseeded tomatoes or 2 ¼ cups of canned. That's about 1 ½ 14-16 ounce can. Use the "chili ready" type that contains jalapenos or if using fresh tomatoes, chop and seed one small jalapeno. Add ½ cup each chopped onion and red bell peppers, 1 cup of peeled, seeded, and chopped cucumber, 1 medium minced garlic clove, ¼ cup olive oil, and a cup of tomato juice. Put half the mixture in a blender until smooth, then add it back to the bowl. Add in the juice of one lime, 2 tsp each of balsamic vinegar and Worcestershire sauce, a dash of cumin, 1 tsp sea salt, and ground pepper. Chill for an hour and serve with your favorite salad.
Whole grain burritos are quick and save time and money when made with canned refried beans. Heat the beans in a pan and warm the burrito shell in a skillet. Top with chopped lettuce, chopped onions, cheese, and chopped tomatoes.
You don't have to reserve eggs for breakfast. A spinach feta scramble can provide a meal for any time of the day. Sautee onions, mushrooms, and fresh spinach. Whip several eggs and add them to the pan. Top them with crumbled feta cheese when the eggs are almost cooked.
A rice cooker can make meal prep a breeze. You can make quinoa or rice for main dishes, including salads. Add avocado, radishes, cucumbers, and a cumin-lime vinaigrette to quinoa for a quick summer salad.
Who doesn't love pasta salad? Almost any vegetable can make it delicious. Add any vegetables, cheese, or protein source you want. A favorite of mine includes cheese cubes, chopped celery, onion, tomatoes, and cucumbers. It's topped with a vinaigrette.
For more information, contact us today at Reggie C. Fitness