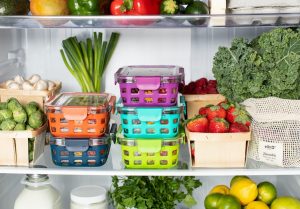 If you want to start meal planning as a way to get fitter, save money and make life easier once you start, you need to get the meal planning supplies. Meal planning starts by writing down your meals on any type of paper or creating a calendar on your computer and filling in the blanks with the meals you're serving that week with a space to include the grocery list. Some people opt for actual meal planning online programs that can vary in price. They come with meal plans, a grocery list and recipes.
You need a place to store the meals you planned.
Those handy microwavable containers for individual servings. Most people like bento boxes with separated areas. You need enough for a week's worth of meals. If you cook your meals on the weekend, two meals will be served immediately, so you just need five per person. If you're making food, you'll be using it every day, like overnight oats, glass mason jars are also important. They provide a tight seal to keep that food fresh longer.
An instant pot and slow cooker are also good options.
Cooking several meals at once can be far too much for any stove, so you need help. Supplementing with countertop cookers like an instant pot can help you do that. Most instant pots do the jobs of a slow cooker, pressure cooker, yogurt maker, steamer or rice cooker. If you cook for a large family, having a slow cooker in addition to the instant pot is also a good idea. Just like the instant pot helps relieve the pressure of cooking too many things on the stove, adding a slow cooker can do the same.
If you're packing future meals in plastic freezer bags, you can save money by getting reusable ones.
If you're doing meal planning and use plastic freezer bags, you'll end up spending a lot of money and throwing away a lot of used plastic bags. Instead, consider getting reusable plastic freezer safe storage bags. Get ones that are BPA-free, freezer-safe and safe to use in the microwave, in boiling water and ovens, as long as the temperature is less than 425 degrees. These are particularly good since sometimes you forget to put the frozen sauce or soup and need to thaw it quickly and that requires heat. If it's not suitable for the microwave, you have to destroy the bag to remove the frozen contents.
A good vegetable slicer can make it easier to use fresh veggies without the hassle of chopping. If your meals are a lot like mine, a lot of your time is spent slicing and dicing, which makes slicing in bulk faster.
A food processor can help you save money and turn those leftover fruits and veggies into a quick smoothie. However, they're also good for chopping garlic, grinding nuts and turning chicken into bits for chicken salad.
Basic kitchen utensils like a cutting board, measuring spoons, measuring cup and a high-quality, sharp knife. You'll need microwavable containers, a set of pots and pans and a roasting pan.
An immersible blender is also a good investment. You can use it directly in the pot while you're cooking. It has unlimited capacity and is perfect for everything from soup to salad dressing.
For more information, contact us today at Reggie C. Fitness