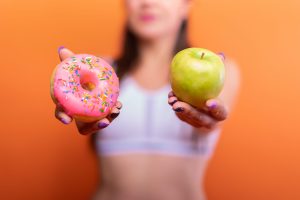 Most people understand how people can crave sweet treats and junk food but fail to realize you can also crave healthy food. It's all about habits and noticing how good you feel after eating healthier food. The trick is first to give up sugar. It's a real struggle, since sugar is quite addictive. Focus on healthier sweet options, such as fresh fruit. Once you break the sugar habit you'll start to notice when food has added sugar and even may find it far too sweet for your taste. The key is that the more sugar you eat, the less your taste buds register the sweetness, so by eliminating it from your diet, you're resetting your taste buds back to normal
Identify why you crave unhealthy food and use the same technique to crave healthier options.
Remember as a kid how you got a special treat, whether it was for doing something special or just a holiday treat, like on Halloween or Christmas. Many positive emotions are tied to unhealthy foods. It was often a special treat to go to a fast food restaurant or get a big bowl of ice cream at night. You now add that to the addictive nature of sugar—to the point where there may be withdrawal symptoms—you can understand why it's harder to give up junk food.
Instead of focusing on the actual treat, focus on how the food makes you feel.
Some people love to eat healthy foods. Instead of focusing on the sweetness, saltiness, crunchiness or whatever the addictive link, they focus on how they feel after they eat the food. These people tend to eat more fresh fruits and vegetables and some even note they feel stuffy and out of sorts if they eat too much junk food.
You can train your brain by eating healthier.
Studies show that you can train your brain to crave healthier foods. One study at Tufts University compared the MRI brain scans of a control group and one that was put on a healthy weight loss diet both before and after the diet. At the start of the study, both groups reacted more positively to junk food and less positively to healthier options. At the end of the six months, the brain scan showed the group on a healthy diet reacted more favorably to foods that were healthier than foods that were unhealthy and the control group remained unchanged.
Keeping a food diary can help develop healthy food cravings. You'll be surprised at how different you feel after you eat a healthier option. Most people don't realize it until they actually focus on their energy level, satisfaction level and overall good feeling for a few hours after a meal.
When you eat mindfully, you focus on flavor, texture and satisfaction as you take each bite. Many people find that healthier food makes their meal more enjoyable and satisfying.
Keeping a food diary can also help identify the emotion that goes with the unhealthy food. If you find you eat ice cream when you're sad or crunchy snacks when you're angry, deal with the sadness or anger first or find a substitute that's healthier.
Identify when you're full, not just when you've cleaned your plate. One suggestion is to eat blindfolded, then quit when you're full. Another option is to take really small portions and allow yourself seconds or even thirds if you're still hungry.
For more information, contact us today at Reggie C. Fitness