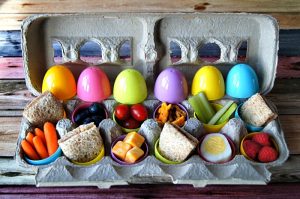 Have you ever considered getting fit in everyday ways? A healthy Easter Egg Hunt might be one of those. Everyone gets five minutes to hide eggs in different locations and then there's a race to find those eggs. The best part is the reward at the end where you use low calorie recipes to make a feast of the eggs for supper. While this is just one method of having fun getting fit, there are plenty more, with new ideas appearing the more you think about it. Fitness doesn't just occur in the gym, although it can start there. Once you become fit, you'll want to do other activities that test your stamina and strength. Getting together with a group can make it more fun.
Have a healthy family get-together.
You can turn every family get-together into a healthy one. Plan activities that will get everyone involved, making sure you even include ones for people that are less fit. Talk to family members about having a healthy menu or if you're assigning dishes or cooking the whole meal, make sure it's nutritious. You don't have to bypass dessert, but find lower calorie healthier options. Who knows, it may be such a hit everyone will want to do it at each get-together.
Make the Easter candy and special treats fun and healthy.
Dark chocolate is heart healthy and is lower in fat, sugar and calories, while also containing many nutrients. Consider melting it in the microwave and covering fruit for a scrumptious treat that's healthier than many you'd buy at the store. A fresh fruit or veggie bunny with dip can also be a great treat for the whole family. Mix peanut butter, honey and wheat germ to make a paste, form into an egg shape and roll in more wheat germ for a healthy alternative to candy eggs.
Use plastic eggs to fill with healthier alternatives besides candy.
There's a whole lot of other things you can fill those plastic eggs with besides candy. Nuts, coins, marbles or super bounce balls are just a few ideas. Don't forget a grown-up version of the hunt. For adults, some folding money might be fun or make slips of paper giving directions to a bigger prize or another egg with more direction. You can even number the eggs and let people work together. The prize might be as simple as a gift card. You'll have everyone out of their chairs and looking.
Don't worry if you've overindulged in forbidden food on Easter. It happens. Just go back to healthier eating when it's over. (Eating a small amount is part of healthy eating, so don't feel guilty if you use portion control.)
If you're stressed out over the holidays, have a workout session before family arrives or before you leave for the day. You'll burn off all the hormones of stress.
You'll probably get loads of compliments if people haven't seen you since before you started exercising. Be prepared to say thank you.
While others may not want to eat healthier, you don't have to remind them to do it. Once they see how good you look, they'll be asking you for your secrets.