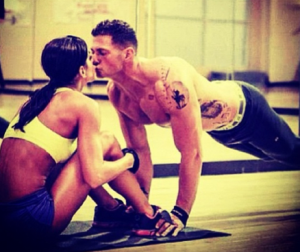 You can have fun in your relationship with fitness. Your attitude sets the stage for any relationship and fitness is no different. If you hate it, it will fight you the whole way and you'll spend hours at the gym disliking each and every moment. Instead, learn to appreciate each muscle movement and how you're learning complete control over your body. You'll be loving every minute knowing that it's the perfect formula to get the healthy happy body you want.
Learn to change your attitude about eating healthy.
Eating healthy doesn't mean you exist on rice cakes and celery. Instead it opens a whole world of good food for you to enjoy. You'll never have to diet again once you learn how to eat healthy and keep weight off permanently. That should bring a tear of joy to your eyes. When you have a happy personal relationship with fitness, you'll love experimenting with new tasty dishes and realize that food can be healthy and delicious. You'll also learn that you don't have to give up everything you love. Eating healthy isn't a diet. Diets are restrictive and leave you hungry. They're more like an adventure in eating.
Have fun revealing the new you underneath the extra weight and flabby muscles.
It is fun to make yourself look fabulous. People pay hundreds of dollars for a makeover that only affects the surface. When you take the time to discover the hidden you, it's not only challenging—it's exciting! You'll be amazed at how great you look and truly appreciate the hours of exercise and healthy eating it took to get you there.
Feel the joy of the extra energy.
Once you start your relationship with fitness, almost immediately, you'll feel a surge of energy. It's so amazing that the more you burn energy, the more you seem to have. Exercising may leave you feeling exhausted at first, but happy. Before too long you'll realize that exhaustion disappeared and you just feel fabulous.
When you workout regularly, stress will melt away. Exercising burns off the hormones created by stress that leave you in a mental fog, exhausted and unhappy.
You'll see an improvement in your complexion that no other beauty aid can bring, when you eat healthy and workout. Eating healthy provides the nutrients your body needs for healthy skin and exercise stimulates circulation sending oxygen and nutrients to all cells in your body.
You'll start to look forward to each workout as you see the huge changes in your body.
When you exercise on a regular basis, you'll add healthy happy years to your life. One study shows that for every minute you exercise, you add seven minutes to your life and have far better health.