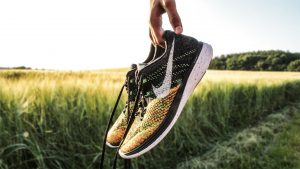 Sure, all you need to workout is a plan, comfortable clothes and good shoes, but all the bells and whistles can make it more fun, more effective or more efficient. Here's some of the latest new fitness gear you can't live without, or at least ones that will motivate you more to stay focused and achieve your goals. There are innovations in fitness continually occurring, beyond the latest new styles in clothes. You might consider making one of these innovations a special treat for yourself when you reach a fitness goal. It just makes it more fun and can be super motivating.
The Nike Run X2 sunglasses are the best personalized glasses for outside exercise.
You can have these sunglasses made for your prescription if you want. If you're a runner, these were made especially for you, but they're also good for golf, tennis and cycling. They adapt to any light conditions and have interchangeable lenses. They provide for coverage for all areas and are extremely comfortable and stable. These are lightweight and fit snuggly with secure temple wrap arms and a ventilated nosepiece. You'll have 100 percent UVA and UVB protection. You'll have 100 percent UVA and UVB protection and look fabulous when you wear these sunglasses.
iHealth Core Scale will help you track your weight loss.
Maybe scales aren't exactly what you had in mind when it comes to rewarding yourself, but this one is different. It not only shows your weight, it also measures eight other factors in your fitness. Those include your BMO—body mass index, body fat, bone mass, lean mass, water weight, muscle mass, daily calories and visceral fat—belly fat, the most dangerous and stubborn type— rating. Some come with a indoor temperature and humidity reading to help maintain the healthiest atmosphere for your home. This device holds you accountable and offers so much more information than the traditional scales. It's actually fun to use too, especially when you combine it with the app that tracks your weight loss goals and monitors your progress.
Fooducate is an app you'll appreciate if you're learning to eat healthier.
Get help with your grocery shopping and plans to eat healthier with Fooducate. It analyzes the nutritional value and gives each food a grade. While it offers a free version, the free version only tells you how many calories to eat. To get the good stuff, like the ability to scan food at the grocery to see the nutritional value and alterernative options, you have to pay a small monthly amount.
If you need a little pampering, Moji Mini foot massager can provide it. It gives a great foot massage and is both small and portable to take along on fitcations.
Choose from the variety of heart rate monitors you wear like a wristwatch, with some less than thirty dollars. Some provide sleep monitoring and more.
Hyperice Venom is a portable heat and vibration back device that you can wear. It lets you bask in comfort after a tough workout or soothe sore muscles when you spend too much time at the desk.
Stay cool and look fabulous without having to bare your legs. If you prefer to keep your legs covered, but also want to stay cool, Climcacool Knit Workout Pants by Adidas are perfect for you.