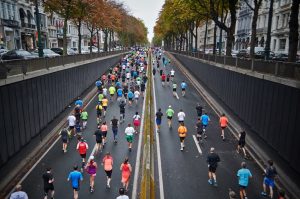 Whether you're working out to get fitter, shed pounds or look better, sometimes you hit a point where it simply gets boring. That's when modifying your goals or adding a new one can help rev up your passion and get you back into the groove. The new goal should be something that sets your competitive juices flowing, even though you'll be competing against your own personal best. It should be big enough to get you excited, but still attainable. That's why trying a triathlon can be a challenge that is perfect to get your head back into the workout and get back on the road to success.
Training for the triathlon is tough.
The triathlon consists of three events, which are normally biking, swimming and running. It has transition periods between events that are also included in the time. That means you must have good endurance and hone your skills in all areas. While winning the race is one of the goals, most people start with the goal of finishing. With each competition, the goal is increased to finishing in a better spot than the last race. If you finished last, long after other contestants, your goal might be to finish with less of a gap.
Find the triathlon that suits your fitness level
You need at least twelve weeks of training to get in good enough shape to participate. You should also pick your triathlon carefully. Not all are the same. Make the first one a Sprint Tri. That race has a 750 meter swim, 12-mile bike ride and 3.1 mile run. The next step up is the Olympic Triathlon where you boost the distance on all areas. The swim is 1.5 kilometers (about twice as long as the Sprint Tri). It also includes double the distance on the bike ride and run. If it's your first triathlon, you don't want to take the Ironman challenge or you might get discouraged from the start. It's a 3.8-kilometer (2.4 miles) swim, with a 112 mile bike ride and 26.2 mile run. That's a bit much for a first timer.
You'll get a full body workout when you train for a triathlon.
While riding bike, running and swimming are important parts of your training, you should include strength-building and flexibility training, too. Staying strong and flexible can help you avoid injury and even make your times faster. If your arms and legs are strong, you'll ride, swim and run faster. Getting a complete workout is as important for success as training in each area is.
Learn to eat healthy for maximum performance. You'll be burning more calories and need the proper nutrition. A solid combination of protein and carbs is important.
Stay hydrated when you workout. While water may be great for the gym, even the shortest triathlons are long, so you may need to focus on drinks that provide electrolytes, nutrients and calories to keep you going.
Practice the combinations. Bricking is combining two of the elements of the race. Do one full length of one of the sports and a shorter version of the next to allow your body to learn to make the change.
Log your progress so you know where you need more training.