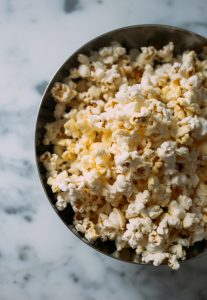 Everywhere you look in Houston, Tx, there are temptations lurking. Whether it's that new bakery down the block that has the most delicious cinnamon rolls or a quick drive through for an order of fries. If you want low calorie snacks, you have to make them yourself. Luckily, there's a lot of easy ones you can make quickly. For instance, just bagging individual serving sizes of nuts, which is the equivalent of either 24 almonds, 12 hazelnuts, 18 cashews, 35 peanuts, 15 pecan halves, 8 Brazil nuts or 14 English walnut halves, is about 200 calories. It's quick and easy, while also providing heart healthy benefits.
You can keep your calorie count low, while you enjoy this tasty treat.
Greek yogurt, the original kind with live culture, full fat and no additives to make it sweet or give it flavor, can be a real diet saver. While the full fat style yogurt has more calories than the low fat type, the fat provides more health benefits, plus keeps you feeling fuller longer. Get a large container and scoop out a half cup of yogurt, slice a handful of grapes or other fruit into it and mix. Mix in cinnamon to taste if you want. If you want a frozen treat that's easy to make, get popsicle molds. Blend yogurt, coconut milk and frozen or fresh pineapple and freeze. Yum! It's a pinasicle. Since most mold holds a half cup, this treat is under 100 calories, too.
Do you want a crunchy snack?
Crunchy and salty are often what your mouth desires. There's nothing better than some popcorn to achieve this goal. You can either make air popped corn for a low calorie treat or make your own microwave popcorn. If you want an easy way to make it at the office, just buy some brown paper lunch bags. Pour ¼ cup in the bag, fold the top over and cook for 2 to 3 minutes until the popping quits. You can top it with a drizzle of butter and salt or even some Parmesan or powdered American cheese.
The go to favorite snacks that still hold top position.
What would a blog on healthy snacks be without at least the mention of raw fruit and veggies with dip. For ease, slice up all the vegetables ahead of time and refrigerate. If you choose fruit like cantaloupe or watermelon, cube it ahead of time, too. You can make a veggie dip out of hummus or create your own. For vegetables, mix cottage cheese and Italian dressing mix or cottage cheese, Greek yogurt and ranch dressing mix. You can also slice apples and put nut butter between the slices for a tasty treat.
Unsweetened applesauce is delicious! Now to add more flavor, sprinkle it with cinnamon. It's healthy, low calorie and a treat that won't make you sorry you ate it.
Another treat under 100 calories that also takes minimum effort is a date that's stuffed. Just put a teaspoon of unsalted nut butter—I love almond butter for this—into one medjool date.
Is ice cream one of your guilty pleasures? Now you can have your marvelous figure and your ice cream too. Slice a banana in 2 inch chunks, lay the chunks on a tray and freeze for six hours. When you take them out, put in a blender for a treat that tastes like banana custard. It's 105 calories.
You'll love all the recipes and ideas available with our nutrition plan at Reggie C Fitness. You'll also get even more benefits when you combine it with a workout plan that will have you looking like the star you are quickly.
For more information, contact us today at Reggie C Fitness