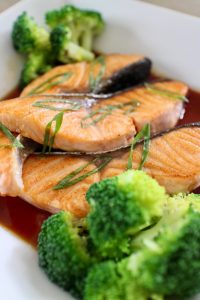 At RC Fitness in Houston, TX, eating healthy food doesn't mean you have to eat food that tastes like cardboard. In fact, many of the recipes offered taste absolutely indulgent. They provide a blend of flavors that will tickle your taste buds and textures that will please your palate. For instance, if you want something crisp and creamy, try sweet potato fries seasoned and baked in the oven, then served with a delicious avocado dip for an appetizer that's amazing.
Take simple high calorie, lower nutrition snacks and make them better.
Nachos are a favorite snack, appetizer and sometimes meal. You don't have to worry about nutrition or calories when you add a touch of magic by piling on the veggies and switching in chicken for the ground beef. By using a thinner layer of tortilla chips, cilantro and extra vegetables, such as corn, lettuce, tomatoes, black beans, onions and avocado thinly sliced. Plus switching out the beef for seasoned fajita chicken strips cut into quarters and then topping with mozzarella or Parmesan cheese, which are two of the lowest calorie cheese available, besides Swiss and feta.
Enjoy the delicious taste of pasta without all the calories.
Pasta is a favorite staple in many high calorie-high carb meals, but you can make them healthier and lower in calories. Just swap out the pasta for some vegetable alternatives, but loaded with more nutrients. You don't have to invest in store bought "special" noodles, you can make them yourself. Spaghetti squash is a starter. Make it with an eggplant marinara topping for elegance or eat those tasty noodles as the base for shrimp scampi. Other veggies make great pasta substitutes, like zucchini noodles—zoodles—carrots, kohlrabi, butternut squash, beets or sweet potatoes.
Use cauliflower in your mashed potatoes.
Cauliflower is a great substitute for potatoes. In fact, to make mashed potatoes a little healthier, do a combination of potatoes and cooked cauliflower. You can add in broccoli and carrots in the mix if you aren't going for the appearance of potatoes. Processed cauliflower also substitutes for white rice in fried rice dishes to increase the nutrient content. Teriyaki cauliflower steaks on the grill or portabella steaks are a good fit for vegetarians. So is healthy vegan strawberry cheese cake made with microwaved grated cauliflower and soaked unsalted cashews as the main ingredients that are processed until smooth.
If you're following a keto diet, try making cloud bread, coconut flour bread, or almond flour bread at home. There are several versions of cloud bread, with the later creations more tasty and like regular bread.
Tomato Parmesan stuffed spaghetti squash is delicious and easy. Roast the spaghetti squash with garlic and remove the garlic, adding it with canned tomatoes, dried fennel, smoky paprika, bits of basil and other spices. Top the halved squash then add Parmesan, mozzarella and bread crumbs.
You don't have to get exotic or substitute when it comes to baked salmon. Think baked salmon with lemon pepper or almond baked salmon with herbs and served with roasted vegetables and salad.
Take the skins off chicken breast and marinate for a delectable high-end restaurant flavor. Serve it with a shaved Brussels sprout salad or lemon, Parmesan roasted asparagus.
For more information, contact us today at Reggie C Fitness