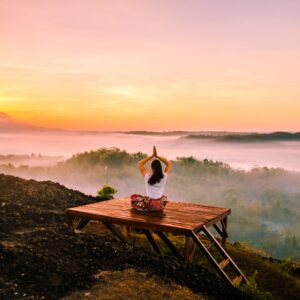 If you're finding it difficult to fit exercise into your day or miss working out several days in a row because "life" happened and the kids needed you, the boss had an emergency or the toilet overflowed, you probably will benefit from switching to a morning routine where you get uninterrupted time for exercise, a healthy breakfast and even a little solitude. You can do it by making a few adjustments and planning ahead.
You could be burning more fat in the morning.
You've fasted the whole night as you slept and if you workout before you eat breakfast, you might be burning more fat, at least according to research done in Japan. Another study from Belgian showed that a diet high in calories didn't affect those who exercised after fasting, but did cause those who ate before exercising to gain weight. Working out the first thing in the morning puts you in a fasting state and may help you shed pounds quicker without all the pain of fasting. For those with low blood sugar, eat something small ten minutes before you workout.
You'll start your day in a better mood.
When you workout the first thing in the morning, you'll burn off any stress, but also boost your circulation and increase the hormones that make you calm, cool and collected. Those happy hormones, known as endorphins, can help you start your day right, with a smile on your face. The quiet surroundings allow you to focus and clear your mind.
Make time for friends with exercise.
If you don't have time for friends, use a morning exercise routine to make the time. Whether you workout in the gym or at each other's homes, having a workout buddy will keep you on schedule. Make sure you get up early enough to have time to get ready for work and have a healthy breakfast together. Making your workout time also a social time not only makes it more pleasant, improves your chances of sticking with the program.
People with Type 1 diabetes can face a potential risk of hypoglycemia when exercising. When you workout in the morning, it lowers the risk. It may be the higher cortisol levels in the morning, which helps control blood sugar.
A 2014 study showed that adults that exercised early in the morning, 7 am, got a deeper sleep than they did on the days they didn't exercise early. The sleep was even better if the person exercised outside.
People who exercised in the morning were more active throughout the day and burned more calories, according to a Medicine & Science in Sports & Exercise 2012 study. It increased activity for 24 hours.
Working out early is especially important in the summer months. It's the coolest in the morning and can help you get your workout in and beat the heat of the hot summer day.
For more information, contact us today at Reggie C Fitness