TOP 3 BEST
WEIGHT LOSS SAUNA SUITS
#1 Heavy Duty RAD Sauna Suit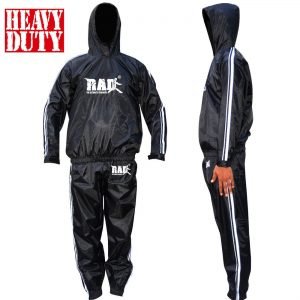 Heavy Duty RAD Weight loss Sauna Suit looks just like a high-fashion sweat suit on the outside, but has a concealed unique EVA nylon material.Complete set includes pullover top and pants. Rugged elastic surrounds the cuffs, waist, waistline and ankles for unbelievable air retention and sauna action. Oversized fit provides top results. The RAD Weight loss Sauna Suit allows you to triple your weight loss by using your own body's natural heat to melt away unwanted fat and water weight.Once you put on the RAD Sauna Suit, all you have to do is move around and exercise to stimulate the body.Through perspiration, the body will naturally excrete unwanted pounds. RAD Sauna Suit works just like the expensive warm body-wrap treatments at the luxurious health spas.The RAD Sauna Suit will help you reduce your entire body weight, evenly eliminate cellulite, get rid of that unattractive stomach pouch, shrink those love handles, and improve muscle tone and definition all over.RAD Sauna Suit is an effective sweat aid which uses natural body heat generated from any type of low or intensive high-energy physical exercise to increase perspiration during your work out. This sweat excretion process through perspiration stimulates the entire body, thus helping to rid the body of excess water weight gain, and evenly melts away unwanted body fat!The RAD Weight loss Sauna Suit is designed as a unisex workout suit that will accommodate both men and women in a variety of comfortable sizes: M,L,XL,XXL,3XL,4XL,5XL,6XL.
#2 TITLE Pro Hooded Sauna Suit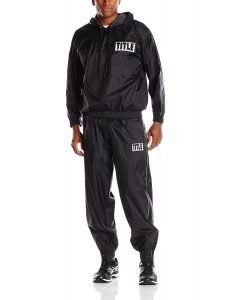 Friends, if you are looking for a sweat and sauna suit that is virtually indestructible and delivers professional results, look no further. Constructed of bi-layered, super thick rip stop nylon with water-repellent non-tear PVC rubber nylon liner to keep perspiration and sauna action inside. Top comes complete with drawstring hood, full 2″ elastic with hook-and-loop secure wrist tabs, 1.75″ fully reinforced elastic waistband and two hook-and-loop secure side pockets for valuables. Pants have 1.75″ full elastic waistband with drawstring, two side pockets and zippered ankle closures with full elastic cuffs. Designed for professional no holds barred workouts. You will not believe the quality in every detail and facet of this sweat suit. Designed to fit loose for intense sauna and sweat inducement.
Pros
Much better quality than cheaper alternatives. it's really well built. And it's not as baggy as the "trash bag" type sauna suits. It holds up pretty well! Not cheap material like Walmart and Target sauna suits. Makes you sweat fast. Velcro on wrist to tighten loose sleeves and prevent sweat from dripping.
Cons
Pants are too long and baggy. No velcro on the end to tighten around ankle (sweat runs down shoe). Zippered ankle is worthless. Its pretty Pricey.
#3 RDX Non Rip MMA Sauna Suit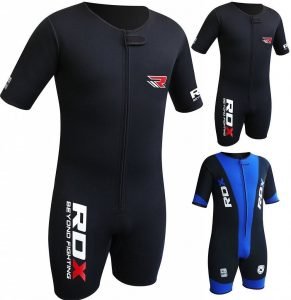 RDX anatomically designed Ultra Flex DS Neoprene Sweat Suit offers serious sweat loss of excess pounds. Made from 3mmUltra Flex DS neoprene. Suit zips up the front for comfortable and simple application and removal. Fits close to the body for uninhibited movement during training. Ultra Flex grade Neoprene stretches and conforms to the torso and arms for serious sweat loss of excess pounds while the super-stretchy triple reinforced material allows for freedom of movement ideal for all workouts. Flat-lock seams & an anatomical cut give total freedom of movement and supply plenty of warmth but the insulating power of a core warmer.Because of the custom fit properties, the Sweat Suit can be utilized by men and women. Ultra Flex DS Neoprene material is heated by body heat, which in turn holds a comfortable warmth that you feel as comfortable as possible when you perform your activities.Hand washable
Pros
Fits snug and you will sweat.  Arrived within days of ordering. The benefits of this product goes beyond being a sweat sauna suit. It also adds resistance to movement because of the tightness of the fit; also considering how snug it fits, your muscles may feel bette
r after a workout wearing it vs. not wearing the suit.
Cons
The size chart is not really accurate, must order a size larger than what you think you need. Zipper can break easily. Individuals with limited range of motion in their arms will find it slightly difficult to remove the suit.
Conclusion
They're all pretty good and effective, its just a matter of which one you think would be best for your needs. I hope this article helps you find the best sauna suit for optimum weight loss
TOP 3 BEST WEIGHT LOSS SAUNA SUITS